THIS WEEK'S FRONT PAGE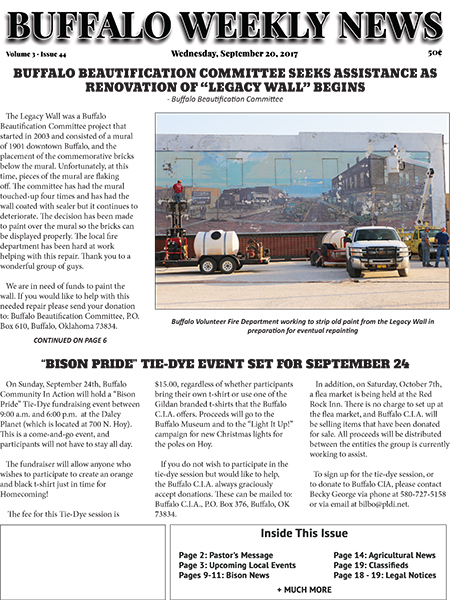 The Legacy Wall was a Buffalo Beautification Committee project that started in 2003 and consisted of a mural of 1901 downtown Buffalo, and the placement of the commemorative bricks below the mural. Unfortunately, at this time, pieces of the mural are flaking off. The committee has had the mural touched-up four times and has had the wall coated with sealer but it continues to deteriorate. The decision has been made to paint over the mural so the bricks can be displayed properly. The local fire department has been hard at work helping with this repair. Thank you to a wonderful group of guys. We are in need of funds to paint the wall. If you would like to help with this needed repair please send your donation to: Buffalo Beautification Committee, P.O. Box 610, Buffalo, Oklahoma 73834.
Even though the Beautification
Committee has not continued to do more projects, they care about the community. Their track record speaks for itself. In the
beginning a group of women got together
and walked the streets of Buffalo to get
signatures for an approximately three
million dollar highway project to go through downtown Buffalo. At the State Capital they lobbied for this project and received it....