THIS WEEK'S FRONT PAGE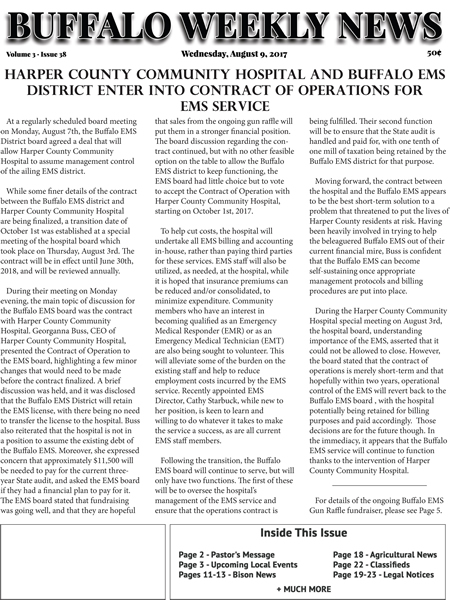 At a regularly scheduled board meeting on Monday, August 7th, the Buffalo EMS District board agreed a deal that will allow Harper County Community Hospital to assume management control of the ailing EMS district.
While some finer details of the contract between the Buffalo EMS district and Harper County Community Hospital are being finalized, a transition date of October 1st was established at a special meeting of the hospital board which took place on Thursday, August 3rd. The contract will be in effect until June 30th, 2018, and will be reviewed annually.
During their meeting on Monday evening, the main topic of discussion for the Buffalo EMS board was the contract with Harper County Community Hospital. Georganna Buss, CEO of Harper County Community Hospital, presented the Contract of Operation to the EMS board, highlighting a few minor changes that would need to be made before the contract finalized. A brief discussion was held, and it was disclosed that the Buffalo EMS District will retain the EMS license, with there being no need to transfer the license to the hospital. Buss also reiterated that the hospital is not in a position to assume the existing debt of the Buffalo EMS...