THIS WEEK'S FRONT PAGE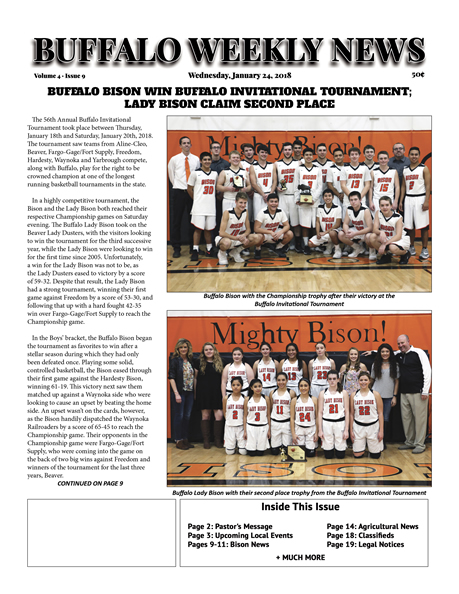 The 56th Annual Buffalo Invitational Tournament took place between Thursday, January 18th and Saturday, January 20th, 2018. The tournament saw teams from Aline-Cleo, Beaver, Fargo-Gage/Fort Supply, Freedom, Hardesty, Waynoka and Yarbrough compete, along with Buffalo, play for the right to be crowned champion at one of the longest running basketball tournaments in the state.
In a highly competitive tournament, the Bison and the Lady Bison both reached their respective Championship games on Saturday evening. The Buffalo Lady Bison took on the Beaver Lady Dusters, with the visitors looking to win the tournament for the third successive year, while the Lady Bison were looking to win for the first time since 2005. Unfortunately, a win for the Lady Bison was not to be, as the Lady Dusters eased to victory by a score of 59-32. Despite that result, the Lady Bison had a strong tournament, winning their first game against Freedom by a score of 53-30, and following that up with a hard fought 42-35 win over Fargo-Gage/Fort Supply to reach the Championship game.